Studio for hire in Castle Hill
CASTLE HILL STUDIO AVAILABILITY
Our studio has an extensive timetable which allows a wide variety of genres for both casual and permanent bookings.
The below timetable details the current availability for our studio which is available for hire.
Note: Timetable is subject to change from January 1st each year dependant on new permanent hirings needs. (more info below)
ANY AREAS SHADED IN (WHITE) ARE CURRENTLY AVAILABLE FOR HIRING
Studio area of studio 1 is approximately 100m2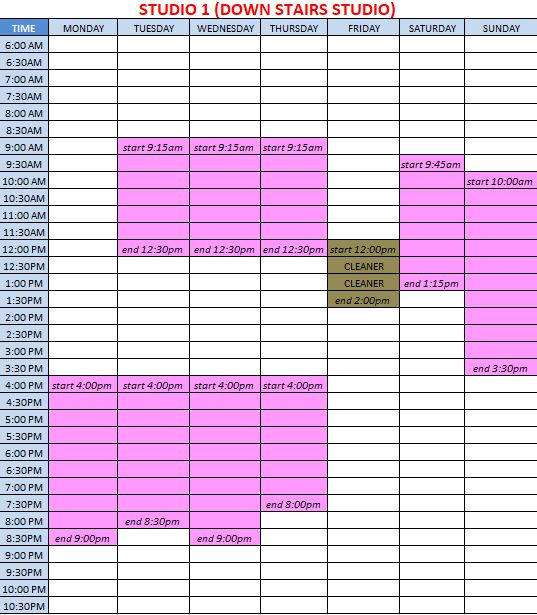 Studio area of studio 2 is approximately 100m2

Please call us any time for a booking. Casual or permanent studio hiring is available.
Email: studio4hire@castlehilldancestudio.com.au or Phone: 0412 501 177
TO VIEW THE STUDIO ON MOST OCCASIONS THE STUDIO IS STAFFED BETWEEN 3:30PM & 7:00PM MONDAY TO THURSDAY. FEEL FREE TO DROP IN THEN.
(if time is an issue call us on 0412 501 177 to arrange a suitable time)
Annual timetable:
The entire timetable and any casual or permanent hirings are subject to constant review. Of importance is the annual review process which takes place on 1st January each year. Dependant upon the needs of the permanent hirers the owner and primary leasee will determine the timetable and availability for the following year.
If you have any questions about casual or permanent hiring please email us and we will do our best to answer any questions you may have.